I am linking up with Faith's Christmas Card Carousel today to show our card to all of my family and friends in the blog world.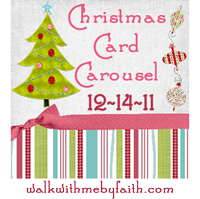 There is no doubt about it, I LOVE Christmas Cards! I love going to my mailbox and seeing what cards came. I also love creating our Christmas Card every year, and sending them out.
I have used
Shutterfly
for the past couple years. I love their cards. There were so many to chose from. I save the cards we receive every year. They are packed away with the Christmas decorations. It is fun to look through them when we get the holiday things out.
Morrow Family Christmas Card 2011
I wanted to take our Christmas card pictures while we were out cutting down our tree. I dressed Geno in his cute Christmas tree hoodie. The people at the tree farm told me that pets weren't allowed to be there. Sad :(. So, he sat in the car while we quickly cut down our tree. The shot of me on the left is while I was sawing. The one of just Dean is him carrying the tree back to the wagon to go get it bundled. I took the shot of Geno on our back deck. I couldn't leave him out.
I have started to frame our cards. I have the card from 2010 in a frame as well as this year. I think it is fun to display them in a pretty Christmas frame. I got the frame from Kohl's for 50% off.
Take a look back:
From our family to yours--
Have a very Merry Christmas and a Happy New Year!!